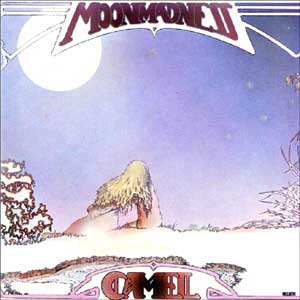 CAMEL - LOCURA LUNAR (1976) MOONMADNESS
Peter Bardens
- Teclados, voz
Doug Ferguson
- Bajo, voz principal
Andrew Latimer
- Guitarra, flauta, flautas dulces, voz
Andy Ward
- Batería, percusión, voz

Dada la falta de apoyo e interés, se concluyen las traducciones por tiempo indeterminado..
Traducido por: Fernando Higa
Lyrics
Letras
Song Within A Song
Canción dentro de una Canción

The sun has left the sky
now you can close your eyes
leave the world behind until tomorrow
the dream is like a song
it leads you on and on
the piper plays his tune
so you must follow.

So far beyond the sky
not knowing how or why
you realize this feeling is forever
and though another day
may steal your dreams away
you and the song will always stay together.



El sol ha desaparecido del cielo
ahora puedes cerrar tus ojos
deja el mundo atrás hasta mañana
el sueño es como una canción
te lleva una y otra vez
el flautista toca su tonada
así que debes seguirlo.

Tan lejos más allá del cielo
sin saber cómo o porqué
te das cuenta que este sentimiento es eterno
y aunque otro día
pueda quitarte los sueños
tú y tu canción siempre se quedará contigo.


Spirit of the Water
Espíritu del Agua

See the lights out on the water
come and go, to and fro
in the time it takes to find them
you can live, you can die
and nothing stops the river as it goes by
nothing stops the river as it goes.

All alone and all together
every day, come what may
by the time we find each other
we can live, we can die
and nothing stops the river as it flows by
nothing stops the river as it goes.



Mira las luces que salen del agua
ir y venir, de aquí para allá
en el tiempo que demora para hallarlos
puedes vivir, puedes morir
y nada detiene al río mientras pasa
nada detiene el río mientras pasa.

Todos solos y todos juntos
todos los días, como venga
para cuando nos encontremos uno al otro
podemos vivir, podemos morir
y nada detiene al río mientras fluye
nada detiene el río mientras pasa.


Another Night
Otra Noche

Dark clouds before our eyes
can't face the morning skies
day comes a day too soon
I'm waiting for that silver moon.

Maybe I'm wrong
but I'm feeling like another night
would make it alright.

Twilight is fading through
seems like I'm fading too
how can I believe it's real
when nothing starts to stop this wheel?



Nubes oscuras delante tuyo
no puede enfrentar los cielos matutinos
el día se va muy pronto
estoy esperando por esa luna plateada.

Quizás esté equivocado
pero me siento como si otra noche
podría corregirlo.

El crepúsculo pierde su intensidad
parece que también me desvanezco
¿cómo puedo creer que es real
cuando nada aparece para detener esta rueda?


Air Born
Nacido para Volar

High flying glider, spread your wings
flying high on a cloud
born on the air, spiral around
so busy making circles
you never touch the ground.

You see the sea, feel the sky
don't know where you go when you die
don't know the answers
to what's in my mind
riding on the wind and turning with the tide.

Life takes you up, it brings you down
changes the pain that remains
keep moving fast,
though the wind and the rain
and if the world keeps spinning round
you'll be back again




Planeador de alturas, extiende tus alas
volando a lo alto sobre las nubes
nacido en el aire, girando en espiral
tan ocupado haciendo círculos
nunca tocas el suelo.

Tú ves el mar, sientes el cielo
no sabes adonde irás cuando mueras
no sabes las respuestas
a lo que hay en mi mente
cabalgando en el viento y cambiando con la marea.

La vida te eleva, te hace caer
cambia el dolor que queda
sigue moviéndote rápido
aunque el viento y la lluvia
y si el mundo sigue dando vueltas
regresarás de nuevo.



Copyright © 2004 - 2011, ferhiga.com