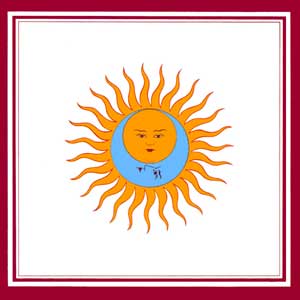 KING CRIMSON - LENGUA DE ALONDRA REVUELTA EN ASPIC (1973)
LARKS' TONGUE IN ASPIC
Robert Fripp
- Guitarra, melotrón
Bill Bruford
- Batería
David Cross
- Violín, viola y melotrón
Jamie Muir
- Percusión, efectos
John Wetton
- Bajo, voz
Lista de Temas
Larks' Tongues in Aspic, Part One (instrumental)
Lengua de Alondra en Áspic, Primera Parte (instrumental)
Book of Saturday
El Libro del Sábado
Exiles
Exilios
Easy Money
Dinero Fácil
The Talking Drum (instrumental)
El Tambor Parlante (instrumental)
Larks' Tongues in Aspic, Part Two (instrumental)
Lengua de Alondra en Áspic, Segunda Parte (instrumental)

Dada la falta de apoyo e interés, se concluyen las traducciones por tiempo indeterminado..
Traducido por: Pablo M. Beleña
Lyrics
Letras
Book of Saturday
El Libro del Sábado

If I only could deceive you
Forgetting the game
Every time I try to leave you
You laugh just the same.

'Cause my wheels never touch the road
And the jumble of lies we told
Just returns to my back to weigh me down...

We lay cards upon the table
The backs of our hands
And I swear I like your people
The boys in the band.

Reminiscences gone astray
Coming back to enjoy the fray
In a tangle of night and daylight sounds...

All completeness in the morning
Asleep on your side
I'll be waking up the crewmen
Banana-boat ride.

She responds like a limousine
Brought alive on the silent screen
To the shuddering breath of yesterday...

There's the succour of the needy
Incredible scenes
I'll believe you in the future
Your life and death dreams.

As the cavalry of despair
Takes a stand in the lady's hair
For the favour of making sweet sixteen...

You make my life and times
A book of bluesy Saturdays
And I have to chose...



Si tan sólo pudiera engañarte
olvidando el juego
Siempre intento dejarte,
y te ríes como siempre.

Porque mis ruedas no llegan al suelo
y la confusión de las mentiras que nos decimos
sólo se vuelven contra mí para arruinarme.

Echamos las cartas sobre la mesa,
las palmas de la mano,
y te juro que amo a los tuyos,
a los chicos de la banda.

Los recuerdos se han extraviado,
volviendo a animar la contienda
en medio de la noche y en los amaneceres.

Todo en la mañana
dormido a tu lado,
yo despertaré a los demás
tripulantes del bote Banana.

Ella reacciona como una limusina,
traída viva sobre la silenciosa pantalla
hacia el aliento estremecido del ayer.

He ahí el necesario auxilio,
escenas increíbles,
creeré que en el futuro,
soñarás con la vida y la muerte.

Tal como la caballería de la desesperación
se fija en el pelo de una mujer
por el favor de una muchacha...

Haces que mi vida y mi tiempo
sea un triste libro de sábados
y yo tengo que elegir...


Exiles
Exilios

Now...in this faraway land
Strange...that the palms of my hands
Should be damp with expectancy.

Spring...and the air's turning mild
City lights...and the glimpse of a child
Of the alleyway infantry.

Friends...do they know what I mean
Rain...and the gathering green
Of an afternoon out-of-town.

But Lord I had to go
My trail was laid too slow behind me
To face the call of fame
Or make a drunkard's name for me
Though now this other life
Has brought a different understanding
And from these endless days
Shall come a broader sympathy
And though I count the hours
To be alone's no injury...

My home...was a place near the sand
Cliffs...and a military band
Blew and air of normality.



Ahora... en esta tierra lejana,
desconocida... que las palmas de mis manos
deberían estar húmedas ante la emoción.

Primavera... y el aire brotando cálidamente
Las luces de la ciudad... y la visión de un niño
jugando en las calles.

Amigos... ¿acaso me comprenden?
Lluvia... y el verdor
de una excursión al campo por la tarde.

Pero Señor, yo tengo que marchar,
mi estela fue derribada muy lentamente tras de mí
como para encarar la llamada de la fama,
o hacer de mí un borracho.
Sin embargo ésta otra vida
me hecho ver las cosas diferente
y desde esos días interminables
vendrá una simpatía mayor.
Y sin embargo cuento las horas
para estar sólo sin dolor.

Mi hogar... era un lugar cercano a la arena
Alcantilados... y una banda militar arruinada
y el aire normal.


Easy Money
Dinero Fácil

Your admirers on the street
Gotta hoot and stamp their feet
In the heat from your physique
As you twinkle by in moccasin sneakers.

And I thought my heart would break
When you doubled up at the stake
With your fingers all a-shake
You could never tell a winner from a snake
but you always make money.

Easy money

With your figure and your face
Strutting out at every race
Throw a glass around the place
Show the colour of your crimson suspenders.

We would take the money home
Sit around the family throne
My old dog could chew his bone
For two weeks we could appease the Almighty.

Easy money

Got no truck with the la-di-da
Keep my bread in an old fruit jar
Drive you out in a motor-car
Getting fat on your lucky star just making.

Easy money.




Tus admiradores en la calle
van a dar chillidos y saltos
en el calor de tu cuerpo
como tú con tus despreciables mocasines.

Y pienso que mi corazón podría romperse
cuando dobles la apuesta
con tus dedos rotos.
Nunca podrías nombrar a alguien que haya vencido a una serpiente, pero siempre ganas dinero.

Dinero fácil.

Con tu figura y con tu cara
pavoneándote cada rato.
Arroja un cristal alrededor del lugar,
enseña el color de tus tirantes carmesís.

Nosotros llevaríamos el dinero a casa,
siéntate en el trono de una familia,
mi viejo perro podría morder su hueso
y por dos semanas podríamos apaciguar al Todopoderoso.

Dinero fácil.

No cojas el camión con el "la-di-da",
mantén mi pan en una vieja jarra de fruta,
conduce a lo loco en tu automóvil,
poniéndote gordo con tu buena estrella, sólo haciendo

...dinero fácil.



Copyright © 2004 - 2011, ferhiga.com