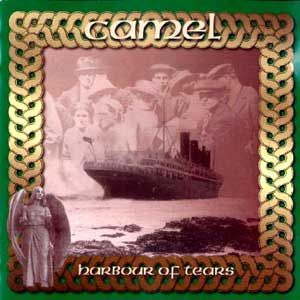 CAMEL - HARBOUR OF TEARS (1996)
Andy Latimer - Guitarras, flauta, teclados y voz
Colin Bass - Bajo y coros
Mickey Simmonds - Teclados
David Paton - Bajo y coros
Mae McKenna - Voz a capella
John Xepoleas - Batería y percusión
Neil Panton - Oboe y Saxo
John Burton - Corneta
Barry Phillips - Cello
Karen Bentley - Violín
Anita Stoneham - Violín

In this quiet place I stand alone,
from my homeland far away.
And my empty heart cannot recall,
the forgotten dreams that brought me joy

Had I ways to shed the wasted years,
I would travel to my kin.
and with strength and faith in God above,
there in Ireland I would gladly die.


I work for the Union Pike,
out on the Western Line.
I found Uncle Sean in Denver,
and he and his wife are fine.
They send their best,
and like the rest -
they send home the slates.
It took six months from the Cobh,
another six by land,
but the pay is good,
and as I should
I'll send home the slates.
Back on your feet
now lads,
Our time for writing home has passed.
Six miles to spike today,
that's what we need.

So fast lads
we must advance,
Work to the Gandy dance.
Six days to double pay,
that's our reward -
But not 'til the line goes down.
I'll not send empty letters,
I know you need the rent.
Dad, you deserve a new pair of boots,
I know it's money well spent.
So kind regards,
I'll work hard -
to send home the slates.

PS. Dear Ma,
I send my picture.
Don't let the family forget me...


Listen now boys,
my grandmother said -
I'll tell you a story and
then off to bed.
There once was a time,
we lived off the land.
Harvest would come,
and we all lent a hand

But winds blew our lives,
and scattered our seeds.
Changing the landscape,
from flowers to weeds.
See in the graveyard
the families gone.
The grandest of tombstones
carry them on...

When you sail from the Harbour,
It's your last eyes of Ireland.

We tended the fire,
and faeries appeased
the flame never died
until we had to leave.
And when we were gone,
the house tumbled down
and covered our footprints,
we'd left on the ground.

When you sail from the Harbour,
It's your last eyes of Ireland.

My eyes are now tired
and no longer see.
But visions of Ireland
linger in me.

So carry your past
in the rooms of your heart
and you'll never he empty
of love when you part.

When you sail from the Harbour,
It's your last eyes of Ireland.