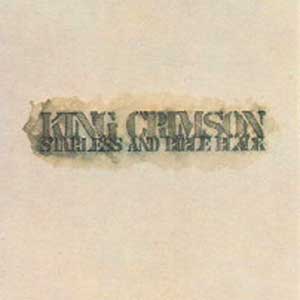 KING CRIMSON - STARLESS AND BIBLE BLACK (1974)
David Cross - Violín, viola, teclados
Robert Fripp - Guitarra, melotrón, dispositivos
John Wetton - Bajo y Voces
William Bruford - Percusiones
Lista de Temas
:
The Great Deceiver
Lament
We'll let you know (instrumental)
The Night Watch
Trio (instrumental)
The Mincer (instrumental)
Starless and Bible Black (instrumental)
Fracture (instrumental)


Health-food faggot with a bartered bride
Likes to comb his hair with a dipper ride
Once had a friend with a cloven foot
Once he called the tune in a chequered quit.

Great Deceiver

In the door on the floor in a paper bag
There's a shoe-shine boy with a gin-shop slag
She raised him up and she called him son
And she canonised the ground that he walked upon.

Great Deceiver

Cigarettes, ice cream, figurines of the Virgin Mary
Cigarettes, ice cream, figurines of the Virgin Mary.

Cigarettes, ice cream, cadillacs blue jeans

In the night he's a star in the Milky Way
He's a man of the world by the light of day
A golden smile and a proposition
And the breath of God smells of sweet sedition.

Great Deceiver

Sing hymns make love get high fall dead
He'll bring his perfume to your bed
He'll charm your life 'til the cold winds blow
Then he'll sell your dreams to a picture show.

Cigarettes, ice cream, figurines of the Virgin Mary
Cigarettes, ice cream, figurines of the Virgin Mary.

Cadillacs, blue jeans, dixieland playing on the ferry
Cadillacs, blues jeans, drop a glass full of antique sherry.


Shine, shine, the light of good works shine
The watch before the city gates depicted in their prime
That golden light all grimy now
Three hundred years have passed
The worthy Captain and his squad of troopers standing fast.
The artist knew their faces well
The husbands of his
lady friends
His creditors and councillors
In
armour bright
, the merchant men.
Official moments of the guild
In poses keen from bygone days
The city fathers frozen there
Upon the canvas dark with age.
The smell of paint, a flask of wine
And turn those faces all to me
The blunderbuss and halberd-shaft
And Dutch respectability.
They make their entrance one by one
Defenders of that way of life
The
redbrick
home, the bourgeoisie
Guitar lessons for the wife.
So many years we suffered here
Our country racked with Spanish wars
Now comes a chance to find ourselves
And quiet reigns behind our doors
We think about posterity again.
And so the pride of little men
The burghers good and true
Still living through the painter's hand
Request you all to understand.