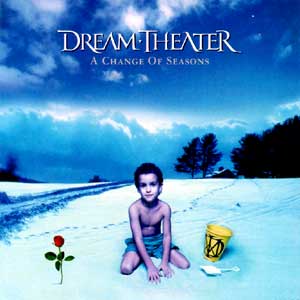 DREAM THEATER - A CHANGE OF SEASONS (1995)
James Labrie - Voz
John Petrucci - Guitarra
John Myung - Bajo
Derek Sherinian - Teclados
Mike Portnoy - Batería y percusión

I remember a time
My frail, virgin mind
watched the crimson sunrise
Imagined what it might find
Life was filled with wonder
I felt the warm wind blow
I must explore the boundaries
Transcend the depth of winter's snow
Innocence caressing me
I never felt so young before
There was so much life in me
Still I longed to search for more
But those days are gone now
Changed like a leaf on a tree
Blown away forever
into the cool autumn breeze
The snow has now fallen
and my sun's not so bright
I struggle to hold on
with the last of my might
In my den of inequity
viciousness and subtlety
struggle to ease the pain
struggle to find the sane
Ignorance surrounding me
I've never been so filled with fear
All my life's been drained from me
The end is drawing near....


'
Carpe diem
, seize the day'
I'll always remember
The chill of November
The news of the fall
The sounds in the hall
The clock on the wall ticking away
'Seize the Day'
I heard him say
Life will not always be this way
Look around
Hear the sounds
Cherish your life while you're still around
We can learn from the past
But those days are gone
We can hope for the future
But there might not be one
The words stuck in my mind
alive from what I've learned
I have to seize the day
To home I returned
Preparing for her flight
I held with all my might
Fearing my deepest fright
She walked into the night
She turned for one last look
She looked me in the eye
I said, 'I Love You...Good-bye'

So far or so it seems
All is lost with nothing fulfilled
Off the pages and the T.V. screen
Another world where nothing's true
Tripping through the life fantastic
Lose a step and never get up
Left alone with a cold blank stare
I feel like giving up
I was blinded by a paradise
Utopia high in the sky
A dream that only drowned me
Deep in sorrow, wondering why
Oh come let us adore him
Abuse and then ignore him
No matter what, don't let him be
Let's feed upon his misery
Then string him up for all the world to see
I'm sick of all you hypocrites
holding me at bay
And I don't need your sympathy
to get me through the day
Seasons change and so can I
Hold on Boy, No time to cry
Untie these strings, I'm climbing down
I won't let them push me away
Oh come let us adore him
Abuse and then ignore him
No matter what, don't let him be
Let's feed upon his misery
Now it's time for them to deal with me.


I'm much wiser now
A lifetime of memories
run through my head
They taught me how
for better or worse, alive or dead
I realize there's no turning back
Life goes on the offbeaten track
I sit down with my son
Set to see the Crimson Sunset
(Gather ye rosebuds while ye may)
Many years have come and gone
I've lived my life, but now must move on
(Gather ye rosebuds while ye may)
He's my only one
Now that my time has come
Now that my life is done
We look into the sun
'Seize the day and don't you cry,
Now it's time to say good-bye
Even though I'll be gone,
I will live on, live on.'



The roses in the window box
Have tilted to one side
Everything about this house
Is gonna grow and die

Well it doesn't seem a year ago
To this very day
You said sorry honey
If I don't change the pace
I can't face another day

And love lies bleeding in my hand
Oh it kills me to think of you with another man
I was playing rock and roll and you were just a fan
When my guitar couldn't hold you
So I split the band
Love lies bleeding in my hands

I wonder if those changes
Have left a scar on you
All the burning hoops of fire
That you and I passed through

You're a bluebird on a telegraph line
I hope you're happy now
While if the wind of change coming down your way girl
You'll make it back somehow.

Can you remember remember my name
As I flow through your life
A thousand oceans I have flown
And cold spirits of ice
All my life
I am the echo of your past
I am returning the echo of a point in time
Distant faces shine
A thousand warriors I have known
And laughing as the spirits appear
All your life
Shadows of another day
And if you hear me talking on the wind
You've got to understand
We must remain
Perfect Strangers
I know I must remain inside this silent well of sorrow
A strand of silver hanging through the sky
Touching more than you see
The voice of ages in your mind
Is aching with the dead of the night
Precious life (your tears are lost in falling rain).

It was an April morning
When they told us we should go
And as I turned to you
You smiled at me
How could they say no?

All the fun to have
To live the dreams we always had
Oh the songs to sing
When we at last return again, yeah.

Sending off a glancing kiss
To those who claim they know
Know the streets a seaman he's
The devil in his hole.

Oh to sail away
Sailing lands and other days
Oh to touch the dream
Hides inside and never seen, yeah.

Into the sun the south the north
Lies the first of hope
Shackles of commitments fell
In pieces on the ground.

Oh to ride the wind
To tread the air above the din
Oh to laugh aloud
Dancing as we fought the crowd, yeah.

To seek the man whose pointing hand
The giant step unfolds
With guidance from the curving path
That churns up into stone.

If one bell should ring
In celebration for a king
So fast the heart should beat
As proud the head with heavy feet, yeah.



Oh, yeah
Here we go
Wanted to know, oh

Sing out Hare, Hare, oh
Dance the Hoochie Koo
The city lights oh so bright,
As we go sliding, sliding, sliding, sliding through.


So you thought you might like to,
Go to the show.
To feel the warm thrill of confusion,
That space cadet glow.
Tell me is something eluding you, Sunshine?
Is this not what you expected to see?
If you wanna find out what's behind these cold eyes,
You'll just have to claw your way through this disguise.


So you think you can stone me and spit in my eye.
So you think you can love me and leave me to die.
Oh, baby, can't do this to me, baby,
Just gotta get out, just gotta get right outta here.


You make me weep and wanna die
Just when you said we'd try
Lovin', touchin', squeezin'
Each other

When I'm alone all by myself
You're out with someone else
Lovin', touchin', squeezin'
Each other

You're tearing me apart
Every, every day
You're tearin' me apart
Oh, what can I say?
You're tearin' me apart
It won't be long, no, until
You're alone
When you're lover, oh he hasn't
Come home
'Cause he's lovin', oh he's touchin', he's squeezin'
Another

He's tearin' you apart
Every, every day
He's tearin' you apart
Oh girl what can you say?
'Cause he's lovin', touchin',
Another
Now it's your turn, girl, to cry.


Turn it on, turn it on, turn it on again
Turn it on, turn it on, turn it on again
Turn it on, turn it on, turn it on again
Turn, turn it on, turn it on again.