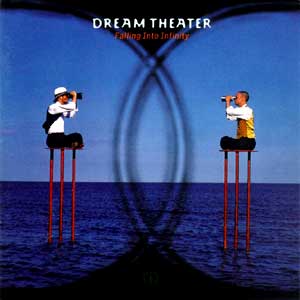 DREAM THEATER - FALLING INTO INFINITY (1997)
James Labrie - Voz
John Petrucci - Guitarra
John Myung - Bajo
Derek Sherinian - Teclados
Mike Portnoy - Batería y percusión
Doug Pinnick - Voz en
Lines in The Sand

A single star behind me
A red sky burns ahead
A lonely light below me
Awake among the dead
An overwhelming feeling
Leaves me numb and strange
A sense of new beginning
I sense a wind of change

Out with the old useless
People so cold ruthless
Welcome in a new millennium
How many times must I
Live out this nightmare I
Can't wait until a new millennium

I've got this feeling
The tide is turning now baby
Funny feeling
Everything's gonna be alright now

Living out a constant deja vu
Keep your head up
Please be patient we will get to you
Keep your head up
Just have some faith and you can see it through
Keep your head up
But faith don't pay the rent that's overdue
Keep your head up
All that's glittering is turning blue
Keep your head up
What they want from me ain't gotta clue
Keep your head up
Swallow pride before it swallows you
Keep your head up
Don't dare bite the hand that's starving you
Keep your head up

How can you keep your head
And not go insane
When the only light at the end
Of the tunnel is another train

Lies ten feet tall
Have broken my fall
Welcome you all new millennium
It's well overdue
And I can't wait to
Welcome in a new millennium.



Being round you is driving me crazy
Watching you run is making me lazy
You're trying to buy a place in my head
Telling me lines I've already read
Speaking my name to try to confuse me
Say it again you're starting to lose me

That's alright I'm okay
It happens every single day
It's all the same
But I'm not blind

It's all about you not me
It's all about the things
That you're expecting me to be
There's not enough time to live
And all that you're expecting me to give

It's all about you not me

You're building my prison brick by brick
Eating your words is making me sick
You get what you want
Cause nothing is sacred
You're reading my mind
And leaving me naked
You say I gotta give before I receive it
One of these days I'll believe it.


There, there it is
I swear he's gonna murder that poor kid
Wait, I hear it again
Don't turn on the lights until we
Hear the way it ends
Under
Peruvian skies
Vanessa regretfully waits
The story unfolds in her eyes
Where midnight hysteria's
No big surprise
Battered and bruised
Always confusing
The love that she's losing for hate
Poor Vanessa
Poor, poor Vanessa
Hey, I hope you know
I'm taking all of this with me when I go
Shame, you're not to blame
I'm the monster you created
In your daddy's name
Terror by night
Liar by day
Telling her secrets
Won't take them away.

He's just the kind of man
You hear about
Who leaves his family for
An easy out
They never saw the signs
He never said a word
He couldn't take another day

Carry me to the shoreline
Bury me in the sand
Walk me across the water
And maybe you'll understand

Once the stone
You're crawling under
Is lifted off your shoulders
Once the cloud that's raining
Over your head disappears
The noise that you'll hear
Is the crashing down of hollow years

She's not the kind of girl
You hear about
She'll never want another
She'll never be without
She'll give you all the signs
She'll tell you everything
Then turn around and walk away.


A thorn in my side, a chip on my shoulder
A lump in my throat, the size of a boulder
The chill up my spine, can't get any colder
And you wonder why I can't smile

A knot in my gut, an ape on my back
In the heat of the moment
I'm knocked off the track
You drop the ball, I pick up the slack
And you ask me why my hair's gray

Twisting, turning
Losing all sense of yearning
Living and learning
The pressure keeps on burning my soul
Burning my soul
Burning my soul

I say it's green and then you tell me it's red
Keep your thoughts and ideas
Locked inside of your head
We've got someone
Who can think for you instead
And he sounds just like the last one

Responsible thinkers
Throw caution to the wind
But I find myself
Speaking from within
I can't live my life
Walking on eggshells
To stay on your good side

Using your words
Controlling my life
Can't you see it's my words
That gives you your life
So I hurt your feelings
Well I'm really sorry
But I don't give a shit, no...


Sometimes, for a moment of bliss
And the passion, we're craving
There's a message we miss
Sometimes when, the spirits left alone
We must believe in something
To find if we've grown

Tragic reflex, shattered calm
Static progress, senses gone
Numb awareness, final psalm

Swept away with the tide
Through the holes in my hands
Crown of thorns at my side
Drawing lines in the sand

Sometimes, if you're perfectly still
You can hear the virgin weeping
For the savior of your will
Sometimes, your castles in the air
And the fantasies you're seeking
Are the crosses you bear

Sacred conflict, blessed prize
Weeping crosses, stainless eyes
Desperate addict, faith disguised

We fabricate our demons
Invite them into our homes
Have supper with the aliens
And fight the war alone
We conjure up our skeletons
Enlist the den of thieves
Frightened from our closets
Then sewn upon our sleeves

In the stream of consciousness
There is a river crying
Living comes much easier
Once we admit
We're dying

Sometimes, in the wreckage of our wake
There's a bitterness we harbor
And hate for hatred's sake
Sometimes we dig an early grave
And crucify our instincts
For the hope we couldn't save

Sometimes a view from sinless eyes
Centers our perspective
And pacifies our cries
Sometimes the anguish we survive
And the mysteries we nurture
Are the fabrics of our lives.

I was sitting on the edge of his bed
Staring at the headlines on the paper
He said, 'Look at poor Gene Kelly
I guess he won't be singing in the rain.'
You can take away my heroes
Can you take away my pain
Take away my pain
Leave the cold outside
Please don't let it rain
Don't stumble on my pride
Take away my pain
I'm not frightened anymore
Just stay with me tonight
I'm tired of this fight
Soon I'll be knocking at your door
She was standing by the edge of his bed
Staring at the message on their faces
He said, 'What else can you do, babe?
I guess I won't be coming home again.'
They just took away all my promises
Make them take away my pain
His final scene
The actor bows
And all those years
Are gone somehow
The crowd applauds
The curtain falls
I was standing by the edge of the water
I noticed my reflection in the waves
Then I saw you looking back at me
And I knew that for a moment
You were calling out my name
You took away my hero
Will you take away my pain
Take away my pain
Let the cold inside
It's time to let it rain
There's nothing left to hide
Take away my pain
I'm not frightened anymore
I'm learning to survive
Without you in my life
Til you come knocking at my door...

Open your eyes
And turn off your mind
Step right up folks
and you will find
A growing trend
An epidemic
Spread with zen
And hypodermics, yeah
Yeah

Just close your mind
You can find all you need with your eyes

The big machines take care of you
Until you kill yourself
And then the sales go through the roof
Calculated, formulated
Feed my head with simple thoughts
And let me breathe instead of being taught
All bottled up and tearing at the seams
I'm bored
Just let me breathe

A daily dose of eMpTyV
Will flush your mind right down the drain
Shannon Hoon and Kurt Cobain,
Make yourself a household name, yeah-yeah
Yeah

Strike up your best angst ridden posture, whoa
Manufactured anger
Let's not forget my legacy
All my heroes have failed me
Now they're dead and buried, yeah

The big machines will take care of you
Until the fashion fades
And the checks go through
My bankroll's red
And my face is blue
And still they'll turn their backs on me for someone new

Feed my head
With some real thoughts
And let me think instead
Of being taught
I'll say things
You won't believe
Just stand back
Just let me breathe...


Helpless child
They invite your hands to fill their needs
Will you be the same
Shameless smile
To steal from you the innocence that bleeds
Will they feel your pain
Trying to believe
The scars unseen
The tears wash clean
You don't wanna breathe the air you breathe
You don't know how you'll live a life alone
She keeps holding on
Holding on to you
Let her breathe the air
Don't wanna be alone
Where do you belong
Anna Lee
Behind those eyes
A vivid scene
A lucid dream within
Questioned secrets are revealed
And every time
You can't deny
The lines that trace your skin
Wounds that never heal
And now she's calling out a name
Can't keep on hiding all her pain
You feel the rain move in
As you begin
To turn and answer the call.

Under the sun, there is nothing to hide
Under the moon, a stranger waits inside
People disappear
The music fades away
Splashing through the rain
I'll dream with them one day

It's raining, raining,
On the streets of New York City
It's raining, raining, raining, deep in heaven

I may have wasted all those years
They're not worth their time in tears
I may have spent too long in darkness
In the warmth of my fears

Take a look at yourself
Not at anyone else
And tell me what you see
I know the air is cold
I know the streets are cruel
But I'll enjoy the ride today

As I walk through all my myths
Rising and sinking like the waves
With my thoughts wrapped around me
Through a trial of tears

Hidden by disguise, stumbling in a world
Feeling uninspired, he gets into his car
Not within his eyes to see, open up, open up
Not much better than the man you hate.


Still awake
I continue to move along
Cultivating my own nonsense
Welcome to the wasteland
Where you'll find ashes, nothing but ashes
Still awake
Bringing change, bringing movement, bringing life
A silent prayer thrown away,
Disappearing in the air
Rising, sinking, raining deep inside me
Nowhere to turn,
I look for a way back home

It's raining, raining, raining deep in heaven.