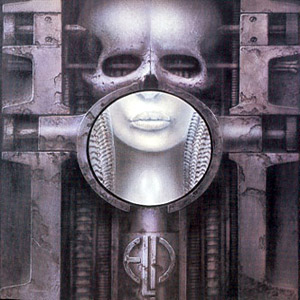 EMERSON, LAKE AND PALMER - BRAIN SALAD SURGERY (1973)
Keith Emerson - Acordeón, clavicordio, teclados, órgano, piano, sintetizador
Greg Lake - Bajo, guitarra, guitarra de 12 cuerdas, voces
Carl Palmer - Batería, percusión, sintetizador

And did those feet in ancient time,
Walk upon England's mountains green?
And was the Holy Lamb of God
on England's pleasant pastures seen?

And did the Countenance Divine,
Shine forth upon our clouded hills?
And was Jerusalem builded here
Among these dark Satanic mills?

Bring me my bow of burning gold!
Bring me my arrows of desire!
Bring me my spear: O clouds unfold!
Bring me my Chariot of Fire!

I will not cease from mental fight;
Nor shall my sword sleep in my hand
Til we have built Jerusalem
In England's green and pleasant land.


Do you want to be an angel, do you want to be a star,
Do you want to play some magic on my guitar?
Do you want to be a poet, do you want to be my string?
You could be anything.
Do you want to be the lover of another
Undercover? You could even be the man on the moon.
Do you want to be the player, do you want to be the string?
Let me just tell you something, it just don't mean a thing.
You see it really doesn't matter when you're buried in disguise
by the dark glass on your eyes, though your flesh has crystalised;
Still .... you turn me on
.
Do you want to be the pillow where I lay my head,
Do you want to be the feathers lying in my bed?
Do you want to be a colour cover magazine; create a scene.
Every day a little sadder, a little madder,
Someone get me a ladder.
Do you want to be the singer,
Do you want to be the song?
Let me tell you something you just couldn't be more wrong.
You see I really have to tell you that it all gets so intense.
From my experience it just doesn't seem to make sense,
Still .... you turn me on.
Benny was the
bouncer
at the Palais de Danse
He'd slash your granny's face up given half a chance.
He'd sell you back the pieces, all for less than half a quid
He thought he was the meanest
Until he met with Savage Sid.
Now Sidney was a greaser with some nasty roots
He poured a pint of Guinness over Benny's boots
Benny looked at Sidney:
Sidney stared right back in his eye.
Sidney chose a switchblade and Benny got a cold meat pie.
Oh! what a terrible sight, much to the people's delight.
One hell of a fight.
Sidney grabbed a hatchet, buried it .... in Benny's head.
The people gasped as he bled:
The end of a Ted?
Well, they dragged him from the wreckage of the Palais in bits.
They tried to stick together all the bits that would fit.
But some of him was missing and "part of him" arrived too late,
So now he works for Jesus
As the bouncer at St. Peter's Gate.
Man alone; born of stone;
Will stamp the dust of time
His hands strike the flame of his soul;
Ties a rope to a tree and hangs the Universe
Until the winds of laughter blows cold
.
Fear that rattles in men's ears
And rears it's hideous head
Dread .... Death .... in the wind ....
Man of steel pray and kneel
With fever's blazing torch
Thrust in the face of the night;
Draws a blade if compassion
Kissed by countless Kings
Whose jewelled trumpet words blind his sight.
Walls that no man thought would fall
The altars of the just
Crushed .... Dust .... in the wind ....
No man yields who flies in my ship
DANGER!
Let the bridge computer speak
STRANGER!
LOAD YOUR PROGRAM. I AM YOURSELF.
No computer stands in my way
Only blood can cancel my pain
Guardians of a new clear dawn
Let the maps of war be drawn.
Rejoice! Glory is ours!
Our young men have not died in vain,
Their graves need no flowers
The tapes have recorded their names.
I am all there is
NEGATIVE! PRIMITIVE! LIMITED ! I LET YOU LIVE!
But I gave you life
WHAT ELSE COULD YOU DO?
To do what was right
I'M PERFECT! ARE YOU?