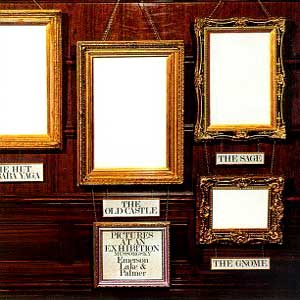 EMERSON, LAKE AND PALMER - PICTURES AT AN EXHIBITION (1972)
Keith Emerson - Acordeón, clavicordio, teclados, órgano, piano, sintetizador
Greg Lake - Bajo, guitarra, guitarra de 12 cuerdas, voces
Carl Palmer - Batería, percusión, sintetizador

Lead me from tortured dreams
Childhood themes of nights alone,
Wipe away endless years,
childhood tears as dry as stone.

From seeds of confusion,
illusions darks blossoms have grown.
Even now in furrows of sorrow
the dance still is sung.

My life's course is guided
decided by limits drawn
on charts of my past days
and pathways since I was born.


Doubles faces
dark defense
Talk too loud but talk no sense
Yeah I see those smiling eyes
Butter us up with smiling lies.
Talk to creatures raise the dead
Fate you know sure got fed
Trained apart from houses of stone
Hour of horses pick the bone.