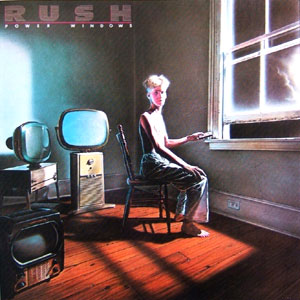 RUSH ! POWER WINDOWS (1985)
Geddy Lee ! Bajo, sintetizadores, bajo con pedales, voces
Alex Lifeson ! Guitarras acústicas y eléctricas
Neil Peart ! Batería, percusión acústica y electrónica

Big money goes around the world
Big money underground
Big money got a mighty voice
Big money make no sound
Big money pull a million strings
Big money hold the prize
Big money weave a mighty web
Big money draw the flies

Sometimes pushing people around
Sometimes pulling out the rug
Sometimes pushing all the buttons
Sometimes pulling out the plug
It's the power and the glory
It's a war in paradise
It's a cinderella story
On a tumble of the dice

Big money goes around the world
Big money take a cruise
Big money leave a mighty wake
Big money leave a bruise
Big money make a million dreams
Big money spin big deals
Big money make a mighty head
Big money spin big wheels

Sometimes building ivory towers
Sometimes knocking castles down
Sometimes building you a stairway !
Lock you underground
It's that old-time religion
it's the kingdom they would rule
It's the fool on television
Getting paid to play the fool

Big money goes around the world
Big money give and take
Big money done a power of good
Big money make mistakes
Big money got a heavy hand
Big money take control
Big money got a mean streak
Big money got no soul...


A to B !
Different degrees...
So much style without substance
So much stuff without style
It's hard to recognize the real thing
It comes along once in a while
Like a rare and precious metal
Beneath a ton of rock
It takes some time and trouble
To separate from the stock
You sometimes have to listen to
A lot of useless talk
Shapes and forms
Against the norms !
Against the
run of the mill
Swimming against the stream
Life in two dimensions
Is a mass production scheme
So much poison in power
The principles get left out
So much mind on the matter
The spirit gets forgotten about
Like a righteous inspiration
Overlooked in haste
Like a teardrop in the ocean
A diamond in the waste
Some world-views are
spacious
!
And some are merely spaced
Against the run of the mill
Static as it seems
We break the surface tension
With our wild kinetic dreams
Curves and lines !
Of grand designs...

I see the Middle Kingdom between Heaven and Earth
Like the Chinese call the country of their birth
We all figure that our homes are set above
Other people than the ones we know and love

In every place with a name
They play the same territorial game
Hiding behind the lines
Sending up warning signs

The whole wide world
An endless universe
Yet we keep looking through
The eyeglass in reverse
Don't feed the people
But we feed the machines
Can't really feel
What international means

In different circles
We keep holding our ground
Indifferent circles
We keep spinning round and round

We see so many tribes ! overrun and undermined
While their invaders dream of lands they've left behind
Better people - better food - and better beer
Why move around the world when Eden was so near?

The bosses get talking so tough
And if that wasn't evil enough
We get the drunken and passionate pride
Of the citizens along for the ride

They shoot without shame
In the name of a piece of dirt
For a change of accent
Or the colour of your shirt
Better the pride that resides
In a citizen of the world
Than the pride that divides
When a colourful rag is unfurled