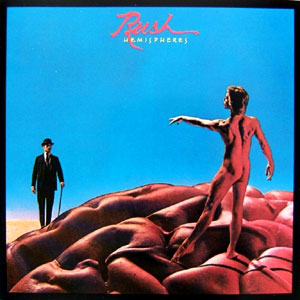 RUSH - HEMISPHERES (1979)
Geddy Lee - Bajo, guitarra acústica, mini moog, bajo con pedales, voces
Alex Lifeson - Guitarras acústica y eléctrica, bajo con pedales
Neil Peart - Batería, percusión

When our weary world was young
The struggle of the Ancients first began
The Gods of Love and Reason
Sought alone to rule the fate of Man

They battled through the ages
But still neither force would yield
The people were divided
Every soul a battlefield...


The Universe divided
As the Heart and Mind collided
With the people left unguided
For so many troubled years
In a cloud of doubts and fears
Their world was torn asunder
Into hollow hemispheres
Some fought themselves, some fought each other
Most just followed one another
Lost and aimless like their brothers
For their Hearts were so unclear
And the Truth could not appear
Their spirits were divided
Into blinded hemispheres
Some who did not fight
Brought tales of old to light
My
Rocinante
sailed by night
On her final flight
To the heart of
Cygnus
' fearsome force
We set our course
Spiralled through that timeless space
To this immortal place
I have memory and awareness
But I have no
shape or form
As a disembodied spirit
I am dead and yet unborn
I have passed into Olympus
As was told in tales of old
To the city of Immortals
Marble white and purest gold
I see the Gods in battle rage on high
Thunderbolts across the sky
I cannot move, I cannot hide
I feel a silent scream begin inside
Then all at once the Chaos ceased
A stillness fell, a sudden peace
The Warriors felt my silent cry
And stayed their struggle, mystified
Apollo was astonished
Dionysus thought me mad
But they heard my story further
And they wondered, and were sad
Looking down from Olympus
On a world of doubt and fear
Its surface splintered
Into sorry hemispheres
They sat a while in silence
Then they turned at last to me
'We will call you Cygnus,
The god of Balance you shall be'
There is unrest in the forest
There is trouble with the trees
For the Maples want more sunlight
And the Oaks ignore their pleas
The trouble with the Maples
(And they're quite convinced they're right)
They say the Oaks are just too lofty
And they grab up all the light
But the Oaks can't help their feelings
If they like the way they're made
And they wonder why the Maples
Can't be happy in their shade?
There is trouble in the forest
And the creatures all have fled
As the Maples scream 'Oppression!'
And the Oaks, just shake their heads
So the Maples formed a Union
And demanded equal rights
'The Oaks are just too greedy
We will make them give us light'
Now there's no more Oak oppression
For they passed a noble law
And the trees are all kept equal
By hatchet,
Axe
,
And saw...