| | | |
| --- | --- | --- |
| | | |
Home / Intro / Campaign / Lyrics and Covers / Fanzines / Singles / Live CDs / Animations / Videos / FAQ / Interviews / Guitar Chords / Book / Articles / Photos / Screen Savers / Links / Internet Resources / Trades / Special Sale / News / Sitemap

Cécile Roux, has written a biography about the Sprouts entitled: Guitares et priéres.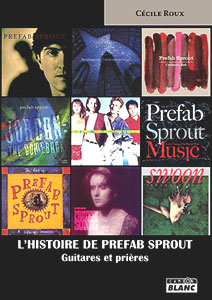 This book contains 322 pages, and it was released on April 26th, 2016. It is in French.
Translation on a note about the book:
On 4 November 2013, Prefab Sprout released its ninth and last album, the glorious Crimson / Red.
Born in England in the middle of the punk wave, Prefab Sprout has been providing quality musical work for more than thirty years, led by the melodic pen of an erased genius, Paddy McAloon.
What do we really know about this discreet but nonetheless essential group of pop music of the 80's and 90's and its members?
It must be said that Prefab Sprout often played the card of anonymity, see blurred the tracks.
Here are some fragments, those of a brilliant course ...
Contents:
Remerciements et dédicaces
Préface
Introduction
Chapitre 1. D'Avalon à Prefab Sprout
Chapitre 2. L.I.M.O.G.E.S.
Chapitre 3. Prefab Sprout et la scène de Newcastle : les annees Soul Kitchen
Chapitre 4. Chansons éctrites en dehors de toute nécessité
Chapitre 5. Déplacer les rivières
Chapitre 6. Une vie d'autoroute
Chapitre 7. Protest Songs, l'album de l'entre-deux
Chapitre 8. Retour à la source sacrée
Chapitre 9. The Sound of crying, le point d'étape
Chapitre 10. Musique celeste
Chapitre 11. Histoires de Pistolero et autres...
Chapitre 12. Hautes fréquences
Chapitre 13. Le retour de Steve McQueen
Chapitre 14. Histoire de l'humanité
Chapitre 15. Rouge est la couleur
Chapitre 16. Prefab Sprout au présent
Chapitre 17. Prefab Sprout et les Beatles
Chapitre 18. Les influences et les héritiers
Chapitre 19. Paddy et la nécessité d'écrire ou l'inventeur du Gospel moderne
Discrographie officielle et autres sources d'information