Home / Intro / Campaign / Lyrics and Covers / Fanzines / Singles / Live CDs / Animations / Videos / FAQ / Interviews / Guitar Chords / Book / Articles / Photos / Screen Savers / Links / Internet Resources / Trades / Special Sale / News / Sitemap
TRACKS
September 1990
Death, God and Elvis

TRACK BY TRACK
JORDAN: THE COMEBACK
Paddy McAloon, a literate pop writer in a world of comic readers is back with 'Jordan: The Comeback'. Martin Townsend probes the world of the Geordie wise guy.

Prefab Sprout's Paddy McAloon adjusted his wire-rimmed spectacles and peered at the song titles neatly typed on his band's new LP sleeve ... all 19 of them.
"I'm still trying to figure out," he said, in a broad Geordie accent, "how I ended up with so many. Sometimes you write one song a month, or one every two months, but over the last two years since the last LP, "From Langley Park to Memphis", I just seem to have written more and more."
Following his song-tributes to Donna Summer, Faron Young, Bobby Fischer, Marvin Gaye, Bruce Springsteen and The Princess of Wales, Paddy has penned no less than four tracks for another of his heroes, Elvis Presley. And the title, 'Jordan: The Comeback' is based around the idea that Elvis is still out there somewhere, alive, well and waiting ... for the right song.
Other tracks - all of them, once again, produced by Thomas Dolby and recorded with his brother, Martin, and singer Wendy Smith - deal with marriage, death, Agnetha from Abba and a angel called Michael ...
"Songs about death and the devil don't belong to any particular time and that's what I'm hoping for the LP ... that it will be seen as timeless," he said. "None of it is modern in the sense of being Jazzie B or Ranking Bruce remixes. It's none of those specific things. It's a mixture of the very traditional and the very far out."
LOOKING FOR ATLANTIS (vibrant 'King of Rock And Roll'-style track, with lots of Wendy Smith's famous 'doo-wah's)
"The idea for this is in the chorus: quit looking for all the Holy Grails in the world and try to come to terms with the things you do in your everyday life and the people that love you."
WILD HORSES (a simple, slow ballad with Paddy sounding oddly like Boy George. A towering track)
"This is about someone thinking their time has gone. They look at a 17-year old girl and she's perfect and they wish they were 17 again and could go out with her. I wanted to do it in the sweetest way possible, without it being a crappy rock or pop sex song."
MACHINE GUN IBIZA (a real departure for the Sprouts, Funky '70s rhythms, wah-wah guitar and Paddy acting the super-smoothie)
"I was down the pub with a mate of mine from The Kane Gang and he said something to me, across a noisy table, about 'Machine Gun' - which is a track by Jimi Hendrix - and Ibiza, where we'd just been on holiday. I thougth, 'Machine Gun Ibiza ? What's he on about ? Then we built up the idea of this character ... someone who was so cool that he embodied all your aspirations. There's no great message in it."
WE LET THE STARS GO (a musical love-letter to one 'Patti-Jo'. Pure, plaintive nostalgia)
"I wrote this in August 1988 - the day Michael Jackson played Leeds. I had tickets but I gave them away because I love Michael Jackson and I thought it would spoil the dream. And I'm glad I did 'cos I wrote this. It's a phrase that could've been in any song over the last 40 years - 'we let the stars go'. Its very Hollywood."
CARNIVAL 2000 (a salsa-soaked knees-up, chock-full of Thomas Dolby trickery)
"I loathe the idea of waking-up one day and thinking. 'I never did all the things I wanted to do' - and, worse, being too old to do anything about it. So I wanted to write a good Year 2000 song while I still could. Hopefully, it's got a kind of end-of-the-century party in Rio atmosphere to it. Whether I'm dead by then or not, there'll be a certain irony in having written it."
JORDAN: THE COMEBACK (Paddy, plays Elvis reflecting on his life. Stunning chorus)
"These last four tracks are all for or about Elvis. If they were a single, they'd be the E.P.E.P. - ha: Crap Jones Unlimited. Anyway, this is his monologue in the desert. I was trying to write it in that down-home boy kinda voice."
JESSE JAMES SYMPHONY & JESSE JAMES BOLERO (linked pieces with a hilarious lyric relating the good times and bad end of the Wild West's naughtiest outlaw)
"I thought. 'I'll try and write something which, if he was still alive, Elvis would want to do', I wanted to give him a character he could identify with and I thought Jesse James would be pretty good because he start off as a baby dangling on his mam's knee and he ends up as a monster, not half as glorious as he thinks he is, who gets shot in the back."
MOON DOG (slow, stately account of Elvis'funeral and a witty prophecy of his 'comeback')
"I don't actually go along with the orthodox Elvis view that he was great when he was younger and it all went wrong. I actually like 'American Trilogy', 'I Just Can't Help Believing'. I like 'Always on My mind'. I even like 'Pork Salad Annie' and some of the Vegas things."
ALL THE WORLD LOVES LOVERS (stays just this side of twee sentimentality. Could be a track from the 'Steve McQueen' LP)
"It's the idea that, this time, you're going to be in love with someone and not say all those corny things which someone end up jinxing it. But at the same time you want all those corny things to come true. In my dreams Frank Sinatra would sing this."
ALL BOYS BELIEVE ANYTHING / ICE MAIDEN (an odd little vocal interlude, followed by a stop-start pop track with flourishes of brass. Strange)
"This is a medley about being 16 and seeing Agnetha from Abba on Top of The Pops and being impressed by this Swedish version of the glamour. Then when you're older you realise it's not sophisticated as all that. I'm not playing a camp game because I like Abba but you could see they were trying very hard and sometimes they came an enormous cropper. For instance one of their lines goes, 'I could see that it made sense / Building me a fence'."
PARIS SMITH (neat and witty little dance tune, with Wendy humming a little tango at the end)
"This is the song for Wendy because she said that if she ever had a kid, what would be the most inappropiate name she could gave it ? She came up with Rock Smith - after Rock Hudson - then Paris Smith. Basically it's word of advice to a child: 'look - don't be too fancy'."
THE WEDDING MARCH (almost a joke song with Paddy comparing marriage to a dance he could "never learn")
"I really don't know how people can make the big leap and get married. Then again, I think I think too much about it. This is an awful apology to make but I think this track's better on my original demo. It's beautifully done as a recording, but I was closer to the spirit of it on my tape."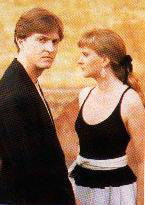 ONE OF THE BROKEN (dreamy blues, peppered with Biblical references)
"I thought it would be a lovely idea having God saying, 'don't write any pretty songs to praise me, just get on and love each other' - and not do it in a po-faced way. I don't know whether God exists. I don't know whether it matters if I think he does. But as a subject for a song. I think it was moving. It's one of my favourites now among all my songs."
MICHAEL (dense wall of keyboards and effects with Paddy singing about that "Lucifer regrets ...")
"This is about the devil. He's shouting across the expanse of hell, the divide he's never going to cross, to Michael the Archangel, who's in Catholic theology is on God' right hand. He's saying, 'can you put a word in for me to the boss, to get me back to heaven'. I just liked the idea of the devil thinking that because when he was kicked out he missed out a real career opportunity."
MERCY (short, heartfelt plea over solo acoustic guitar)
"Once I'd written the devil as a high-tech villain with lots of big drums and icy music, I thought it might be nice to give him another sort of song. Alternatively you can just read it as a love song: someone asking for mercy in a romantic way."
SCARLET NIGHTS (huge Bon Jovi drum-beat, mixed with sad churchy organ)
"I did the demo for this as, like, a disco track: I wanted it to be bouncing along. Then Tom heard it and wanted it to be a ballad, with no drums. We came to this sort of compromise in the end. It's about someone waiting to die so I s'pose you've got to have a suitably solemn backing."
DOOWOP IN HARLEM (weedy electric organ and high soul harmonies. About death)
"A simple song, simply done. People always think, 'oh poor Paddy - he writes simple little songs and then that rotten Thomas Dolby goes and ruins them," but Thomas is the one who likes to keep things simple. If it was left up to me it'd be the full palette every time."