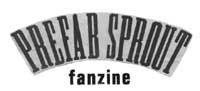 Welcome to the first Prefab Sprout Fanzine
Kitchenware's director Phil Mitchell has given me the OK for it, so it's full steam ahead !

The fanzine will be distributed free of charge but if you want any more, post me half a dozen 20p stamps for future supplies, that way, I can post them when they've been printed up and it'll save me advertising every couple of months.

Hopefully I'll be able to provide enough material to keep both new and more long-standing followers satisfied.
YOUR CONTRIBUTIONS ARE MORE THAN WELCOME
Any suggestions or articles / letters for inclusion should be sent to the address above.

I aim to put out a fanzine as regular as I can (dependant upon amount of material available), around every two months, so keep in touch !
In particular, your personal reviews of concerts attended around the country (past and present) will be more than welcome.
We're just awaiting the anticipated tour schedule for late 1990?

See you in Memphis,

P.S. S.O.S. I need help on some artwork for the next Fanzine - can anyone out there help with some ideas / contributions ?

Special thanks for the first fanzine go to:
Jane Parr and Tracey Cole for encouragement
Sue Dyer for faith
Nicola Wray for the "Sprouting From Prefab" cutting
Patrick Devlin for constructive criticism

Thank you Phil Mitchell for your support and to all at The Stables

Want any Pen-Pals ? Send in your details and I'll print them in the next fanzine.
Send in your top ten Prefab Sprout songs and we'll compare them. If you have any questions to ask, I'll try my best to get you the answers! Write soon!

STOP PRESS .. See July's edition of "Q" - Prefab have a mention

John Birch