Home / Intro / Campaign / Lyrics and Covers / Fanzines / Singles / Live CDs / Animations / Videos / FAQ / Interviews / Guitar Chords / Book / Articles / Photos / Screen Savers / Links / Internet Resources / Trades / Special Sale / News / Sitemap
Rollmo! No. 02
CLIPPINGS
Record Mirror 28.7.90

Prefab Sprout release their single 'Looking For Atlantis' on July 30. It's their first new material since 'From Langley Park To Memphis' was released in 1988 and the B-side features another new song, 'Michael'. Prefab Sprout are due to release a new album entitled 'Jordan: The Comeback' very soon.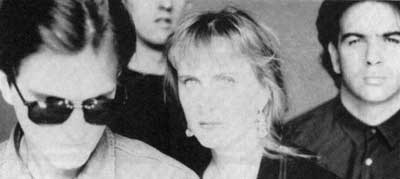 N.M.E. 28.7.90

Q July Issue

PREFAB SPROUT break a two-year silence with a new single on Kitchenware next week - and there are strong hints of a tour later in the year.
The Sprouts last played live five years ago, while promoting the 'Steve McQueen' album, but NME understands that promoters are currently putting together a series of dates for the autumn.
The single is called 'Looking For Atlantis' and is out on Monday, backed by another new song 'Michael'. Both titles were produced by Thomas Dolby. An album will follow later in the year, provisionally entitled 'Jordan: The Comeback'.
It will be their first LP since 1988's 'From Langley Park To Memphis', although their legendary lost album 'Protest Songs' was finally released last year after a four-year delay.
Paddy McAloon has reassured Prefab Sprout fans that there will be a new LP this August. Proudly sporting the latest in his widely-acclaimed Facial Shrubbery Mistakes (this time a frankly ginger Dr Crippen-esque moustache), McAloon added (that he is currently angling lo write the soundtrack for Warren Beatty's next film, a biopic of Howard Hughes Beatty, a long-lime hero of McAloon's, hasn't, as yet, "touched ballparks" with the Geordie songsmith.