Home / Intro / Campaign / Lyrics and Covers / Fanzines / Singles / Live CDs / Animations / Videos / FAQ / Interviews / Guitar Chords / Book / Articles / Photos / Screen Savers / Links / Internet Resources / Trades / Special Sale / News / Sitemap
Rollmo! No. 05
David Jackson reviews Prefab Sprout at Cambridge Corn Exchange - 9 October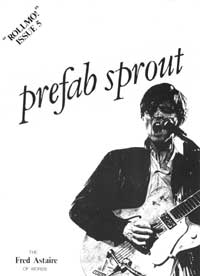 ..Well, what can I say ? They were surprisingly BRILLIANT at Cambridge.
For a "stand and watch" concert as opposed to a "jump up and down" one they were really entertaining with their professional innocence.

Did they go down well ? I've never heard an applause last so long as the one for Paddy's improvised "Dublin" solo when Neil's snare drum gave up.
Just so many people loved them it was so nice, warm and soothing...

Trash Can Sinatras were excellent too. They seemed a bit pissed off with the middle-aged cardigan wearers in the audience (and there were quite a few.) Waistcoasts were in full force tonight aswell - Yeuch !!
A two hour performance of Super-Sprout excellence, humour and some blummin' good songs.

They verged on Rock'n'Roll too with stuff like "Faron Young", "Cars and Girls" and "The Golden Calf." That got 'em swaying in the aisles !

ROLLMO !