CHRYSALIS COGNOSCI (FROM CROCODILE CRYER TO CROCODILE SHOES)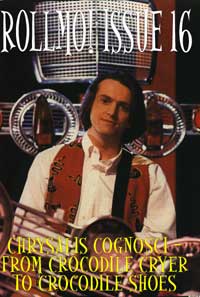 Chrysalis Cognosci was one of the other band names that Paddy had dreamed up, along with Prefab Sprout as possible names for a band that could have conveyed a sense of mystery or even quirkiness. Other contenders were Dry Axe and The Village Bus. No preconception could be made of the music from the name it was this 'anonymity' which appealed to Paddy. Still today he refers to some of the things he is involved with as being a very "Sprout thing to do".
More and more Paddy increasingly and purposefully allows himself to be side-tracked into other projects.
In July 1991, Paddy got the opportunity to meet one of his musical heroes, Jimmy Webb. The invitation came from RTE (Irish Independent TV Station) asking Paddy to appear on the programme and sing one of Paddy's songs with a 30-piece orchestra on a show called "An Eye To The Music". Phil Mitchell (co-manager of the band at Kitchenware Records) asked who else was involved and Jimmy Webb's nema was mentioned. A plan was hatched to get Paddy and Jimmy together and they both ended up duetting Highwayman, a song about re-incarnation. Webb's composition was first a hit for him in 1974 and subsequently for Kris Kristofferson, Willie Nelson and Johnny Cash. In a radio interview on KCRW Santa Monica in 1988, Paddy gave a short live acoustic session and included another Webb number Wichita Lineman. As an eleven-year-old Paddy stumbled across the song at school on the radio, "I need you more than you want you and I want you for all time". Paddy was hooked.
Also in 1991, The Zombies released an album New World, which included Colin Blunstone's superb version of "Love Breaks Down".
In 1993, Jimmy Nail asked Paddy to write some songs with a country and western theme for an album and television series Crocodile Shoes, which was released the following year. Paddy penned two songs specially, Cowboy Dreams (which was a popular radio play single in its own right) and Love Will Find Someone For You. The latter was formerly entitled Angel of Love but the title changed due to Nail's own composition Angel. A third contribution, Dragons, was also used but had been culled from another project of Paddy's (more details in the next fanzine!).
Paddy had also been asked to write a few songs for Cher to consider for her album It's a Man's World, which was released in 1995 and included one of his songs The Gunman. It's likely that the theme Paddy had in mind for The Gunman came at the time he was also writing Cowboy Dreams.
In 1997 the record industry mogul Muff Winwood revealed that the next album Earth: The Story So Far had been seven years in the writing by Paddy, claiming it to be an ambitious and 'experimental project':
"He's taken moments in world history and written about them. He sat down and wrote songs about Adam and Eve, Neil Armstrong and Elvis. The song Earth: The Story So Far was one of the most beautiful things I've ever heard, so I said, "Why don't you thread that tune through the whole album", which is what he set off to do."

Paddy commented:
"That project relies on a collage technique. I had to master so many things, in particular the technology to actually bring the album to life. I will finish it though and hopefully it will be the next record."
It wasn't.
In 1996, Jimmy Nail's follow-up album Crocodile Shoes II, which includes two further Paddy songs, Blue Roses and I'm A Troubled Man, was released. Playing drums on this album, Paul Smith had already become Neil Conty's replacement during the recording of the next actual Sprout release, Andromeda Heights. Two McAloons and two Smiths ? A very Sprout thing to do indeed.
Other covers and collaborations are numerous:
He'll Have To Go (old 1984 B-side and bonus track on Two Wheels Good in the US) was originally a hit for crooner Jim Reeves many years ago.
Crocodile Cryer was written by fellow Kitchenware Records stable-mate Martin Stephenson and was a rare 12" B-side (Trouble Town single). Paddy produced the song and played harmonica, with Martin on double bass. In fact, Neil Conti recorded a few songs with The Daintees, including Slaughterman. Le us not forget the rare recording and would-be next single from Glasgow outfit Sunset Gun's Deirdre and Louise Rutkowski singing with Prefab Sprout in an early 1984 version of Horsin' Around.
Ravivar Fiore was a bonus track on Thomas Dolby's My Brain Is Like A Sieve CD single in 1989. The track is credited as being co-written by Pady McAloon. In fact, Dolby had pinched a melody line from the song Blueberry Pies from the Dolby-produced album Steve McQueen.
Paddy, had written a few songs for Cher to consider for her album It's a Man's World, which was released in 1995 and included one of his songs The Gunman.
Aussie soap starlet Kylie Minogue played a live UK acoustic radio session, which included a brilliant version of If You Don't Love Me. Her 1994 single Confide In Me (CD2) included a torch song version of If You Don't Love Me.
Also, France's one-time Eurovision Song Contest entrant Frances Ruffelle featured one of Paddy's songs God Watch Over You on her debut album of the same year, entitled Fragile. The CD single release of God Watch Over You included a "Stephen Hague Master Mix" of the song (he has also worked with Cathal Coughlan's Fatima Mansions and Bubonique other Kitchenware 'artistes'). This track appear as a bonus track on later album re-issues, I believe. The same song also appear on Wendy Matthews' album The Witness Tree, but this version being funkier and with a heavier bass line. Also on this album (1994 again!) was another Paddy-penned tune entitled Ride (Home To Jesus) - part of Paddy's Gospel project ?
As Paddy becomes known more widely for his songwriting talents, Prefab Sprout's association with major stars will only fuel others' interest in his songs. These associations are numerous and impressive: Pete Townsend, Virginia Astley, Stevie Wonder, The Andrae Crouch Gospel Choir, Cher, Thomas Dolby, The Zombies, David Bowie, Mick Jagger, Jimmy Webb and even Kylie Minongue !! impressive stuff in an industry where "who you're seen with" matters quite a lot.
So what the hell happened to Earth: The Story So Far ? If I can quote the March 1994 Prefab Sprout Fan Club Newsletter, "Paddy is hoping to finish demoing the new album in April so recording should begin relatively soon after that." Baloney !
More recently (and ironically) the Paddy-penned TV theme music for the series Where The Heart Is probably enjoyed as much success as Andromeda Heights, appearing as a bonus track on the first CD single of the album, Prisoner Of The Past.
We can assume that Andromeda Heights was another of Paddy's distractions. There's one thing you can be sure of with Paddy you can be sure that something he's been involved with will surface well before that next 'promise'. After all (as I finish off in my book by saying), Paddy admits to being a "terrific liar":
"I'm like a mole. I do everything on the sly. And then I sort of present all the tapes to the people. And you've got to be more sly the older you get. If you want to get better you've got to turn the flame right down and just be absolutely passionate about what you do."
John Birch
Stewart Gregg