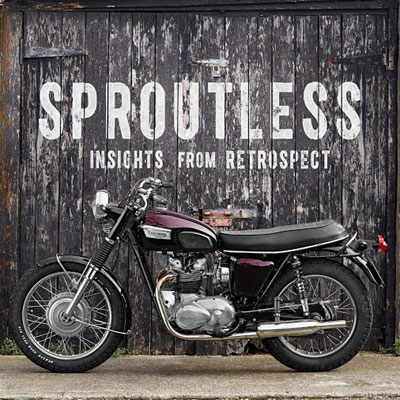 INSIGHTS FROM RETROSPECT (2013)
IDEAS EN RETROSPECTIVA
Producido, Mezclado y Masterizado por Scott McPherson

= back to the lyrics / volver a las letras =

Créditos:
Producido, Mezclado y Masterizado por Scott McPherson
Temas 1, 2, 3 y 10 coproducido por Jono Grant
Productor Ejecutivo - John Birch
Productor Ejecutivo - Scott Travis

Concepto y Diseño del arte - Adrian Fitz-Simon
Fotografía - Christopher Lindhorst

¡Gracias a Simon Walsh por la motocicleta!

Si no fuera por las conversaciones y las sesiones de intercambio de ideas con John Birch y Scott Travis desde hace meses, me temo que este proyecto con seguridad no habría sucedido. Caballeros, les agradezco tanto por su inteligencia, entusiasmo, creatividad, increible soporte y preciada amistad.

Y por supuesto deseo agradecer a tanta gente talentosa que entregó su tiempo, entusiasmo y sorprendentes talentos a este proyecto, sin quienes esto no habría sido posible. El equipo de "Insights from Retrospect":

Andrea Perry, Melissa McPherson, Neil Conti, Jeff Fernandez, Adrian Fitz-Simon, Christopher Lindhorst, Jono Grant, Jamie Grant, Patrick Allcock, Tim Bovaconti, Bryden Baird, Roy McCalvey, Robert Le Plar, Robert Pascussi, Jason Hoogerhyde, Bob Remstein, Probyn Gregory, Seam Timms, Gary Isaacs, Cliff Hillis, KC Bowman, Mark Bombara, Mark Romanowski, Tom Wardle, Minco Eggersman, Jayson Jarmon, Jon Ecklund, Scott Travis y John Birch.

Bliss
Fast Ships and Supernovas

Escrito por

Patrick Allcock



Neil Conti - batería
Jono Grant - teclados, guitarras, bajo, percusión
Bryden Baird - trompeta
Tim Bovaconit - guitarras eléctricas
Andrea Perry - voces
Scott McPherson - voces



Escrito por

Cliff Hillis y Scott McPherson



Neil Conti - batería
Cliff Hillis - bajo
KC Bowman - guitarras eléctricas
Andrea Perry - voces
Scott McPherson - voces, teclados, guitarras acústicas, bajo

Love Junkie
Finally September

Escrito por

Patrick Allcock



Neil Conti - batería
Jon Ecklund - guitarras acústicas
Robert Le Plar - bajo
Jono Grant - teclados, guitarras, bajo, percusión
Patrick Allcock - guitarras eléctricas, armónica
Andrea Perry - voces
Scott McPherson - voces


Escrito por

Mark Bombara y Mark Romanowski



Mark Bombara - guitarras, teclados
Mark Romanowski - guitarras, teclados
Shane Peck - batería
Noah Wilson - bajo
Janet Utterback-Peck - violín
Karen Halliburton - violín
Brianna Atwell - viola
Andrea Perry - voces
Scott McPherson - voces


Wanderlust
Charm Offensive

Escrito por

Scott McPherson



Neil Conti - batería
Jono Grant - teclados, guitarras, bajo, percusión
Andrea Perry - voces
Scott McPherson - voces, guitarras



Escrito por

Jayson Jarmon y Scott McPherson



Neil Conti - batería
Sean Timms - piano, teclados
Gary Isaacs - bajo
Andrea Perry - voces
Scott McPherson - voces, guitarras


Hannah, Are You Out There?
Fall

Escrito por

Scott Travis y Scott McPherson



Neil Conti - batería
Bob Remstein - teclados, programación de baterías
Roberto Pascucci - bajo
Probyn Gregory - guitarras
Andrea Perry - voces
Scott McPherson - voces, piano, teclados



Escrito por

Adrian Fitz-Simon



Neil Conti - batería
Jono Grant - teclados, guitarras, bajo, percusión
Andrea Perry - voces
Scott McPherson - voces, guitarras


Spirit Us Away
Love

Escrito por

Bob Remstein



Bob Remstein - teclados, programación de baterías
Roberto Pascucci - bajo
Probyn Gregory - guitarras
Andrea Perry - voces
Scott McPherson - voces



Escrito por

Scott McPherson



Melissa McPherson - voz
Scott McPherson - voces, teclados, programación de batería


39 Steps
God's Country

Escrito por

Scott McPherson



Neil Conti - batería
Andrea Perry - voces
Scott McPherson - voces, guitarras, teclados, bajo



Escrito por

Minco Eggersman



Scott McPherson - voces, guitarras, teclados

Coming Home

Escrito por

Roy McCalvey y SScott McPherson



Neil Conti - batería
Sean Timms - piano, teclados
Gary Isaacs - bajo
Andrea Perry - voces
Scott McPherson - voces, guitarras, armónica